Are Home Sales Headed Down?!? Yes, home sales appear to headed down… but why? 
According to DS News, The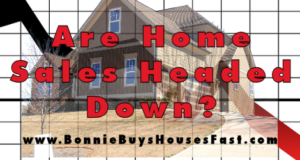 National Association of Realtors, and Ten-X Residential Real Estate Nowcast, there are several factors.
It has nothing to do with economics. The Economy is going strong! With a strong labor market, bullish stock market, and low mortgage rates, it's a good time to own a home. The lack of available houses has more to do with the downturn than anything else.
According to Ten-X, an extremely low inventory of homes is slowing down sales and driving prices upward. This is diminishing affordability for many buyers. High student debt, tight underwriting conditions and the potential for higher interest rates could further constrain home buyers.
Here are some other factors contributing to the slowdown in home sales:
New home construction is still lagging behind demand.
About 1/3 of homeowners don't have enough equity to put their homes on the market.
A Psychological barrier to many homeowners-is that they are unwilling to put their homes up for sale fearing that there's nothing for them to buy.
Demand for existing homes exceeds supply.
Stiff competition for lower priced properties keeps buyers out of the market.
Home prices are still on the rise. Nationally in September home prices were up 4.2%. This marks the 67th consecutive month of year over year price gains. The above listed factors, are pushing the number of houses being sold nationally, downward.
Does it seem like no relief in sight? Stay tuned for part 2!